At the Zero Density booth, KST Moschkau showed the extent to which productions in virtual studios can be automated with Reality, CamBot systems and Kairos.
As a partner at the Zero Density booth, the KST CamBot team gave deep insights into the possibilities of studio automation in daily shows and over 100 individual demonstrations at the Zero Density booth.
Basically, at IBC2022, KST Moschkau demonstrated live what can be achieved in terms of automation, even for installations whose budget does not allow the use of Mosart automation or a similar system.
The team relied on the combination of Reality, Zero Density's virtual system, Panasonic's Kairos production platform and IP video mixer, and KST's CamBot automation and robotics system. "With these three central components, we achieve an extremely high degree of automation," explains KST Managing Director Axel Moschkau, "without the need for an external, expensive automation solution."
The intelligent combination of Reality, CamBot and Kairos allows far-reaching automation – even for small and medium-sized projects. "An amazing amount is already possible," says Axel Moschkau.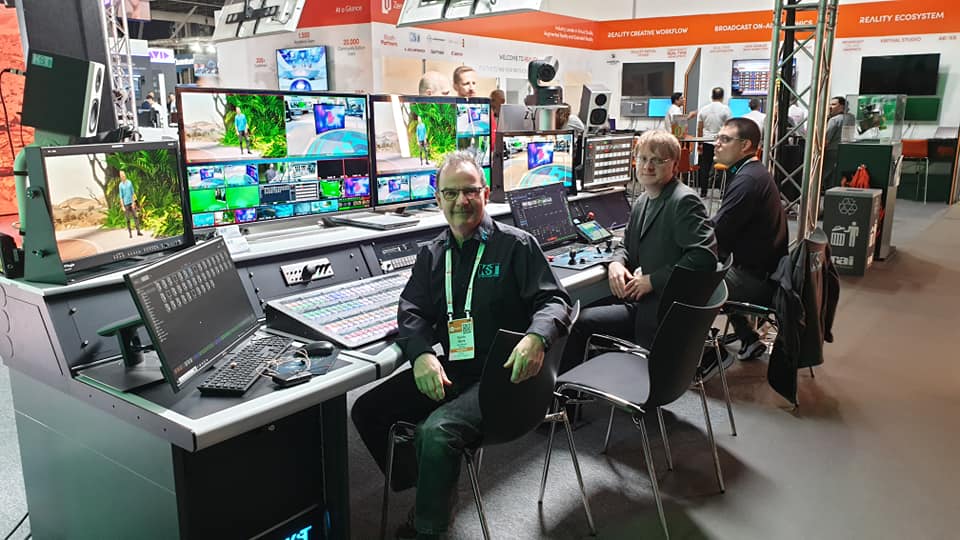 In such a setup, CamBot is responsible for controlling all those components that need to be automated in the studio, such as lighting, streaming, recording systems, audio, graphics and more.
KST ultimately programs macros with which the optimal interaction of the technical elements is triggered. In this way, individual operating or work steps can be saved. During production, these macros can then be called up step by step, production then runs semi-automatically and sets Reality, Kairos and CamBot to the correct status in each case. This allows production to be run with a minimum of personnel, at a very high level of efficiency and production speed.
"Kairos is basically the extended operating level of our CamBot system," explains Axel Moschkau. If everything is prepared precisely, even very complex sequences can be automated, emphasizes Moschkau, because Kairos offers an adaptive, dynamic operating level.
"Even complicated, technically and creatively demanding shows and broadcasts can be automated very well in this way," says Axel Moschkau.
During IBC2022, KST Moschkau demonstrated live to the trade show audience the capabilities of KST Moschkau's triumvirate of Zero Density Reality, Panasonic Kairos and CamBot in terms of image quality and automation. The team succeeded and was able to impress and convince the audience in the numerous daily demos.
Article by FILM TV VIDEO: https://www.film-tv-video.de/equipment/2022/09/23/virtuelle-studioproduktions-automatisierung/